DPRO-9620VFW Dome IR Camera, Sony CCD, White Base, 700 TVL, Varifocal

The DPRO-9620VFW dome IR camera uses the 1/3" Sony Super HAD CCD II which supports an ultra high 700 TV lines of resolution in color (day mode) and 720 lines in black and white (night mode).
The DPRO-9620VFW 2.8-12mm varifocal lens gives you great control over the focal length of the camera. Adjusting this CCTV security camera's setting down to 2.8mm will yield a wide field of view, or move it anywhere up to 12 mm to zoom in to tighten viewing angle into a specific area. For example, mounting this dome camera 20 feet away from a target such as a cash register or point of sale would allow one to effectively monitor that specific station.
This IR Dome camera supports two (black & white) infrared night vision modes; one without using it's 35 IR LEDs (0.01 LUX) and a second with using the 35 IR LEDs (0 LUX). The infrared mode is selectable via the camera's push button on screen display (OSD), to the following: On / Off, Low, Medium or High. The DPRO-9620VFW can produce up to an 80ft infrared viewing range in total darkness, with it's 35 infrared LEDs.
In addition to being a high end night vision camera, the 9620VFW also has built in WDR (Wide Dynamic Range) capabilities which allows for compensation in foreground and background lighting; which essentially combines the darkest part of the image with the brightest part to produce one highly detailed and balanced image.
Click here to watch sample surveillance videos captured by the DPRO-9620VFW.
---
Black Base Model Available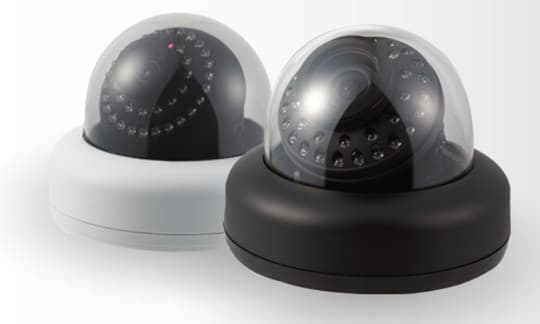 The DPRO-9620VF indoor dome with black base is also available. It is the exact same camera, just with a black base instead of white.
---
Dual Voltage Available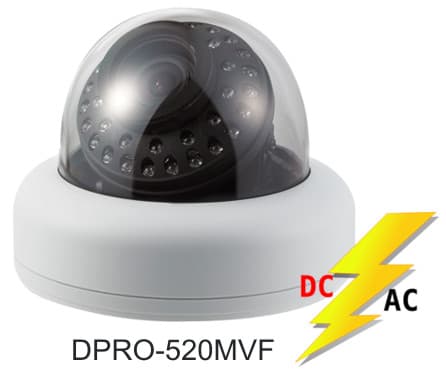 This camera is also available in a dual voltage model, the DPRO-520MVF. This allows installers to use their choice of a 12V DC or 24VAC power supply. One of the advantages of using 24 VAC over 12V DC is that you can run the power cable a longer distance without power drop or loss.
---
Dome Wall Mount (Option)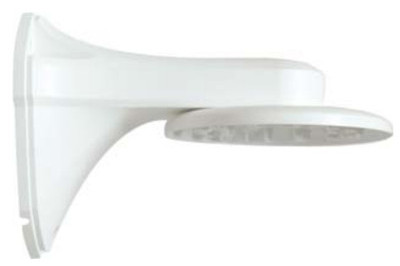 We have a dome wall mount bracket in white available for the 9620VFW. This is optional because this camera is capable of being wall or ceiling mounted using the built-in tri-axis mount. This optional wall bracket does make a nice addition for high end commercial and retail surveillance installations.


---
DPRO-9620VFW Dome IR Camera features:
The DPRO-9620VFW has a white plastic base and is made specifically for indoor use. If needed, this dome camera is also available in a black base under product code DPRO-9620VF dome infrared camera.
---
Recommended Surveillance Installations / Applications
CCTV Camera Pros recommends the DPRO-9620VFW for the following types of video surveillance installations and applications.