Indoor / Outdoor Infrared Security Camera, 700 TVL 960H CCTV, 100ft IR
The BIPRO-540L4W is an indoor / outdoor infrared security camera that has 36 IR LEDs capable of 100 feet illumination in the dark. This is a bullet style CCTV camera that can be connected to a monitor or surveillance DVR via coaxial cable.
The 540L4W's Sony Super HAD CCD supports 700 TV lines of video resolution (works with D1 and 960H CCTV DVRs). This camera is enclosed in a weatherproof housing so it can used in indoor or outdoor installations. The 3.6mm lens provides approximately a 20 foot wide field of view at 15 feet away. This camera and mounting bracket are white. There is also a silver version available here.
Watch this demo video surveillance footage and view these sample snapshots to see the normal light and zero light infrared capability of this camera.
Concealed Cable Bracket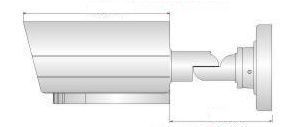 The bracket that is attached to this camera completely conceals the coax video and power cable which protects it from tampering. The bracket is a tri-axis style which allows the installer to rotate the body of the camera in any direction so that the exact view that you need can be achieved.


Camera Features
Weatherproof for indoor/outdoor surveillance
700 Lines of resolution / 960H CCTV
36 infrared LEDs see up to 100 feet
1/3" Sony CCD (Super HAD Day/Night)
3.6mm lens
0.0 Lux Infrared Night Vision
White Body Color
Mounting bracket included
Power supply included