The BIPRO-S600VF12 is an outdoor infrared CCTV camera that captures high resolution analog video surveillance - 700 TVL resolution / 960H CCTV. The split glass technology of the lens cover prevents undesired reflections in both day and IR night vision modes.
The S600VF12 comes with 42 IR LEDs which deliver an infrared illumination distance of up to 200 feet (when set to "high") in complete darkness. Furthermore this camera is equipped with a Varifocal lens of 2.8 - 12mm providing a wide angle view. The advantage of the Varifocal lens is that the viewing filed can be "manually zoomed in" to focus on a distant target area.
The S600VF12 comes with a weatherproof rating of IP66, which ensures that it will hold up in harsh outdoor conditions, making this perfect wide angle weather resistant outdoor camera.

Click here to see this camera used in a business and home surveillance system installation. You can also watch sample surveillance video recorded from this camera here and see some video snap shot samples here.
The cable through bracket design conceals and protects the power and video cables by keeping any extra cabling protected inside the bracket. The full 3 axis bracket design allows for easy ceiling or wall mount and customizing where you need to direct the lens for monitoring.
The bullet surveillance camera gives users access to an on screen display (OSD) menu to adjust the camera settings to exactly match your monitoring application. The on screen display controls are accessed on the underside of the camera in a weatherproof compartment.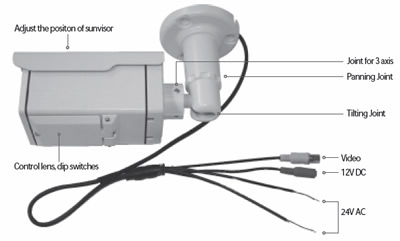 Outdoor CCTV Camera Features
High Resolution CCTV camera

700 TV Lines Color

and

700 TV Lines B&W

960H CCTV Format

1/3" SONY High Sensitivity SUPER HAD CCD II

2.8~12mm

Auto Iris Vari-Focal Lens, able to be manually zoomed in up to 12mm
Superior low light video surveillance down to

0.00003 LUX before using IR

Weather Resistant (IP66 rating)

+ corrosion-free housing
Adjustable IR (Infrared) LED for a

wide or narrow Infrared beam

S600VF12 come with

42 IR LEDs

for zero light viewing range of up to 200 feet
Includes

Smart IR

, for a dynamically calibrated Infrared image
Automatic Day & Night Vision Modes w/Mechanically Switching

IR Cut Filter

Digital Noise Reduction

(DNR)
Works with all CCTV DVRs
On screen display (OSD) for settings customizations (brightness, etc)
Includes full

3 Axis Bracket

, for simple wall or ceiling mount (also conceals cables)

Dual Voltage Support:

DC12V (1000mA) or AC 24V
KEY DIFFERENCES between this S600VF12 and our S700VF50
| | | |
| --- | --- | --- |
| | BIPRO-S600VF12 | BIPRO-S700VF50 |
| Variable Lens | 2.8mm to 12mm | 6mm to 50mm |
| Infrared Viewing Distance | Up to 200 Feet / 60 meters | Up to 250 Feet / 76 meters |

If you require a more powerful varifocal lens (6 to 50mm) and stronger infrared beam for illumination up to 250 feet, please consider the BIPRO-S700VF50 outdoor bullet camera.

---
Surveillance Videos
This video demonstrates the normal light, low light, and zero light infrared video surveillance capability of the BIPRO-S600VF112. The camera used in this video is mounted in the far corner of the room at nine fee high. The size of the room is 28 feet by 29 feet, and the door is 36 feet away from the camera. The floor lamp is the only source of light for the low light video test and it has a 15 watt light bulb in it. We tested the BIPRO-S600VF12 indoors event though it is an outdoor security camera so that we could create a true zero light environment to test in.